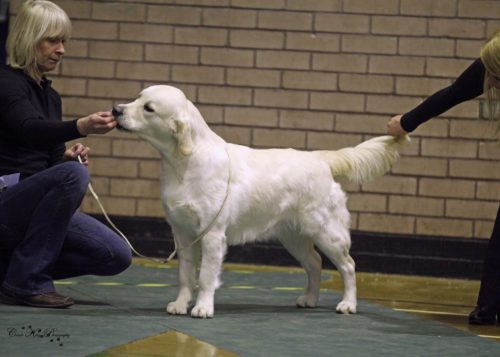 " Fenpinque Glitterspelle"
(Sh Ch Shardanell  Castaspell X Fenwood Glitterati) JW
Whelped: 25/04/2013
Hips 6/4, Elbows 1, eyes clear,
"GLOW"
ACHIEVEMENTS
First prize Championship Show Winner
BOB Winner
Critiques:
17month old bitch that was compitently and sympathetically handled, she possesses an attractive head, which is enhanced by her sweet expression, dark eyes and good pigmentation.A good reach of neck combined with strong and well laid shoulders, coupled with good rear angulation and level topline, produced a balanced, attractive outline. Sound on the move, she covered the ground with accuracy and poise, even though the ring surface was somewhat slippery. Taking into account her youthfullness, she gave an excellent account of herself during the challenge for Best Bitch.
Judge: Trevor Willmith (Goldenmill), Scottish Breeds, 2014
A very striking bitch with a strong outline. Excellent length of neck with flow into a good level topline. Well bent stifle & strong straight neat hocks. Showing free and attentive to her owner she presented herself very well excelling on the move by maintaining her level topline & striding out.
Judge: B. Athey (Ninell), Border Union, 2014
Pedigree of " "

Parents
GrandParents
GreatGrandParents
SIRE

SH.Ch.

Shardanell Castaspell

Ipcress Sir Thomas
 Sh.Ch.

Perrimay Hugo Of Fenwood

 Ipcress Sky Blue
 Lovehayne Scarlet Sage

For Shardanell

 

Sh.Ch. Elswood The Highlander

 Lovehayne Marcasite
DAM

Fenwood Glitterati (JW)

 Swed. Ch.

Dewmist Servantes

Ned, Swed, Ch.Erinderry Gaelic Minstrel
 Swed Ch. Dewmist Shaquille
 Sh.Ch.

Ramchaine Green Glow By Fenwood

 Sh.Ch. Erinderry Just The Ticket From Bluewaters
 Sh.Ch. Remington Requisite of Ramchaine